Detroit Tigers trade target: Los Angeles Dodgers CF prospect Alex Verdugo
The Detroit Tigers have Los Angeles Dodgers center field prospect Alex Verdugo on their wish list according to Jon Morosi of MLB.com.
The Detroit Tigers have yet to officially throw in the towel on the 2017 season, but it appears that a selloff is inevitable as the organization looks to build a brighter future.
Jon Morosi of MLB.com rounded up some MLB trade rumors and notes today as we approach the final month before the trade deadline. In his column, Morosi noted that the Tigers could target Los Angeles Dodgers center field prospect Alex Verdugo in a possible J.D. Martinez trade if they do decide to sell.
If the Tigers decide to sell — and they haven't made that decision yet — they'd like to come away from the Trade Deadline with their center fielder for 2018. Dodgers prospect Alex Verdugo is among the names on their wish list.
The 21-year-old Verdugo has spent all of 2017 in AAA where he has hit an impressive .340/.413/.464. He has probably been a bit lucky with a .367 average on balls in play but he's shown average power and doesn't strike out much. So far in 2017 he's drawn 29 walks against only 25 strikeouts.
Verdugo is no stranger to the state of Michigan either. He played 101 games in Midland as a member of the Great Lakes Loons in 2015 where he posted a .719 OPS with five home runs and 13 stolen bases before moving up a level to finish the year.
Verdugo came into the year as the number three prospect in the Dodgers system according to Baseball America's rankings from January (leaving out Jose De Leon who was traded). MLB Pipeline currently ranks him as the number two prospect in the organization.
Anthony Fenech of the Detroit Free Press asked some scouts executives to put a trade value on J.D. Martinez. The responses indicated that the Tigers could receive an organization's number two type prospect in return (plus an additional piece or two). That type of valuation would put a player like Verdugo in play should the Tigers and Dodgers agree to a trade involving Martinez.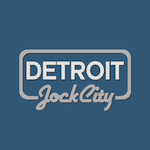 Want your voice heard? Join the Detroit Jock City team!
Write for us!
Verdugo has spent most of his minor league career playing center field but has split time at the position with Trayce Thompson (he's shifted to right field when Thompson gets the start in center).