Should the Detroit Red Wings look to acquire Nikita Zaitsev?
The Toronto Maple Leafs are a bit salary cap stricken as they head into the offseason with a few major building blocks left to re-sign. Recently defenseman Nikita Zaitsev has expressed his desire to play elsewhere, and the Leafs would willfully oblige. Should the Detroit Red Wings consider acquiring the young defender?
The Detroit Red Wings greatest weakness throughout their roster continues to be on the back-end. The team has a mix of veteran players who appear to be over the hill with a few middle career guys clinging for dear life to stay on an NHL roster. Let's briefly go through a few of the current defenders before determining if we'd like to add another third pairing player.
A player like Niklas Kronwall who's career is primarily on the 18th green; he's peaked up before his final putt, glancing over to the clubhouse wondering what flavor beer he will choose to go with his hot dog. He's been a magnificent Red Wing throughout his entire career. To think back to the 2008 cup run; he was paired with Brad Stuart while Nicklas Lidstrom & Brian Rafalski manned the teams' top minutes. The Wings were always deep up front, but that backend flew under the radar; they were stout.
Jonathan Ericsson has seen plenty of various injuries mount. He's often looked slow, and struggled to keep up with the pace of play. He does absolutely nothing in the offensive zone; he's a liability in his own end not having the ability to skate himself out of trouble or elude the forecheck. He's a buyout candidate if Steve Yzerman so chooses but entering the final year of his 4.25 million per season contract, Yzerman may just decide to ride it out. In 52 games last year Ericsson owned a CF% of 44%, which is terrible, recorded 5 points to go along with his minus -10 rating.
Another middle of the road player to this point in his career is Danny DeKeyser. The now veteran defender at the prime age of 29 has three years remaining on his deal averaging 5-million per season. Similar to Ericsson, Dekeyser was also limited to 52 games last season. He recorded 20 points as he averaged nearly 22:00 minutes a night. His CF% was also below average sitting at 47.6%.
Both Mike Green & Trevor Daley are entering the final year of their deals, both will be trade candidates this summer or as the season wears on and the trade deadline approaches. I wouldn't see a situation where Steve Yzerman had interest in bringing either back to the team. Green is absolutely the better of the two but seemingly can't stay healthy.
With the emergence of Filip Hronek and the remaining potential of Dennis Cholowski amongst a couple of other young defense prospects should the Detroit Red Wings consider adding Zaitsev who remains a project at 4.5-million per season for five more years? The once-promising defenseman has recently seen the wheels come off in Toronto; he's looking for a new start.
He checks a few boxes, though. He's a right-handed shot; he can average over 20:00 TOI minutes a night if he needs too. He played 20:28 last year in Toronto. He isn't the worst skater in the world but struggles to exit the defensive zone without turning the puck over. He seems to prefer banging the puck off the glass to clear his zone either icing it or turning it over in the neutral zone. At times that can be an effective play, but he seems to choose that even when has time to make an exit pass to a teammate.
He's not exactly a young prospect; he's currently 27-years-old. After a strong scoring rookie season, his last two have really tailed off although the Toronto Maple Leafs as a team continue to become a better offensively. To me, the Detroit Red Wings wouldn't have to give up much to get him, but it would be a precarious move adding that 4.5 million dollar cap hit to what looks like a third pairing defender. If he were 23-years-old, it would maybe be worth the risk. His CF% last season was 49%, a touch below average but nowhere near as bad as Ericsson.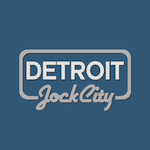 Want your voice heard? Join the Detroit Jock City team!
Write for us!
The Wings have some key RFA's to re-sign next summer; they should focus on ridding themselves of some dead wood and looking to add impact players in the future rather than middle-aged players with question marks around their game like Zaitsev. He recorded 14 points in 81 games last season.