Detroit Red Wings: Is Erik Karlsson Interested in Detroit?
Recently Erik Karlsson expressed some interest in rejoining the Ottawa Senators this summer. The two-time Norris Trophy Winner will become an unrestricted free agent on July 1st. Should the Detroit Red Wings at least take a run at the star defenseman?
Don't be alarmed by the first line of this article. Yes, reports are swirling that Erik Karlsson hopes either Ottawa or Montreal make him an offer. It's apparent if the San Jose Sharks are unable to re-sign the standout defenseman he and his wife would prefer to be living somewhere around Ottawa. It all makes sense; his wife Melinda is from Ottawa and is a bit homesick. This should also in all likelihood at least put the Detroit Red Wings into the conversation.
The Detroit Red Wings are emerging once again as one of the more exciting franchises in the NHL. Non-Wings fans will snicker at that comment, but it's the truth. The Red Wings ownership under the direction of Christopher Ilitch brought a legend back to run its franchise. The teams' success/excitement along with roster decisions under long-time GM Ken Holland became stale.
Steve Yzerman tried to acquire Erik Karlsson in the past while he was running the Tampa Bay Lightning. They have that connection, but they can relate to one another; although Steve Yzerman was born in Cranbrook B.C, he lived most of his childhood in Ottawa himself. Yzerman grew up in Nepean, Ontario, which is an independent city that eventually amalgamated with the city of Ottawa. He may be able to remind the Karlsson's' of this and perhaps expressing how the city of Detroit has always embraced him. Plus Ottawa isn't THAT far from Detroit, remember, he's currently in San Jose.
Erik Karlsson would be a tremendous addition to the Detroit Red Wings. He's a guy who logs enormous minutes, something the Wings quite frankly have needed since Nicklas Lidstrom retired. Throughout his career, Karlsson's averaged just shy of 26:00 TOI minutes a night. The two-time twenty goal scorer has seen a dip in scoring over the last couple of seasons. He's averaged 13 goals per season throughout his ten-year career. The previous two years combined, Erik has only recorded 12 goals.
The lack of goal-scoring production later in his career reminds me a bit of Mike Green. As good as Karlsson is, he's never scored 31 goals in a season like Green. Karlsson is so dynamic, and a better player than Green but the scoring ability, along with the drop off stands out a bit to me. His CF% last year was eye-popping though leveling out at 59%, simply awesome.
One can only assume Karlsson will command around 11-million per season on a seven-year deal, mirroring Drew Doughty's extension with the Kings, except Drew was able to sign for the extra year staying in L.A. This is the only advantage the Sharks have if they can somehow talk the defender and his wife into staying on the West Coast. It appears that it will be unlikely.
I can't imagine Ottawa being willing to go through the circus again with Karlsson. The team is dysfunctional as it is, plus he had a significant falling out there before he was traded to San Jose. The Montreal Canadiens are an interesting player in the Karlsson sweepstakes though. Montreal sort of excelled last year, exceeding the leagues' expectations. They are on the up & up, they are a bit tight to the cap with lucrative long-term deals handed out to both Carey Price and Shea Weber, but they might just be able to swing it.
The Toronto Maple Leafs are another name that continued to come up regarding Karlsson, but they are having a salary cap dilemma of their own having plenty of young talented stars to re-sign along with trying to move a couple of bad contracts out of town to do so.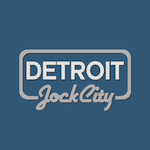 Want your voice heard? Join the Detroit Jock City team!
Write for us!
That leaves the Detroit Red Wings, just an 8-hour drive from Ottawa. Their location, young talented core, the excitement surrounding Steve Yzerman, plus the salary cap space to fulfill Karlsson's demands make them an attractive destination. Only time will tell, but I think Detroit might finally be able to land another premier free agent, something that hasn't been done since the summer of 2008 when they landed Marian Hossa.