If Teez Tabor needs to start the Detroit Lions are in Trouble
Teez Tabor looked excellent on day one of the Detroit Lions minicamp, even picking off Matt Stafford once. Day two was a very different day; Tabor was often chasing a wide receiver running free on the practice field.
Teez Tabor is about to enter the third year of his NFL career; it's been anything but smooth for the young cornerback. Saying he's had an up and down first two years is an understatement. He's shown flashes of being an NFL corner, and other times he looks like he's still a freshman in college. The Detroit Lions would be in serious trouble if either Darius Slay or Justin Coleman happened to go down with an injury. Over the past two seasons' Tabor has started five games, he's yet to record an interception.
Forget about Darius Slay not attending training camp; I fully expect Slay to be there anchoring the secondary once the season starts. Both he and Damon Harrison, the two best players on the Detroit Lions defense are missing in action to start the new NFL season. Both were absent to start OTA's and once again for minicamp.
Players of their caliber don't need to show up for these gatherings, although it tends to be a bad look when a couple of the team leaders are not around. The pair share the same agent, both have term remaining on their contracts, but both are looking for a new deal. This is a way to send a message to the Detroit Lions management in hopes of pressuring Bob Quinn to come to the table with a couple of new contracts.
I don't expect it to happen, but if Slay, in particular, were to hold out, or have the unfortunate luck of suffering an injury this year, the corner depth is very nerve-racking, to say the least. Rashaan Melvin, Amani Oruwariye, Teez Tabor or heaven forbid Jamal Agnew would have to play as a starting corner.
In fact, one of those guys hopefully, Oruwariye will be called upon to start as it sits now opposite Slay with Coleman working as a Nickle corner. At the moment it appears Melvin is the favorite to win the open game nod as the corner opposite Slay. Imagine if you dare, that group without Slay–scary isn't it?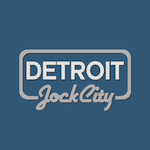 Want your voice heard? Join the Detroit Jock City team!
Write for us!
Although we would all love to see the full complement of players on the practice field the benefit of having Slay & Harrison sit out is the younger players like Oruwariye, Tabor, and Agnew are all getting plenty of much-needed reps. Agnew is playing as the Nickle corner with Justin Coleman working out on his own, yet to take part in team drills.