Detroit Red Wings: Will Niklas Kronwall's Decision Impact Defenseman?
Detroit Red Wings general manager Steve Yzerman made a mistake allowing Niklas Kronwall to take his time on the decision to retire or not. Kronwall's decision will have an immediate impact on the state of the Red Wings defenseman this season.
After his fifteenth season in the NHL playing for the Detroit Red Wings, Kronwall is left with an important decision. Making his debut during the 2003-04 season, Kronwall is now taking time to decide whether he will return to the Red Wings for the upcoming 2019-20 season. Red Wings general manager Steve Yzerman told Kronwall that he could take as much time as he would like before alerting the organization of his decision which can be viewed as a fatal mistake.
With the month of August upon us, the Kronwall decision still eludes Red Wings fans, which leaves the question of; what will the organization's defenseman core look like? The current state of the Detroit Red Wings roster has seven defensemen on it, not counting Niklas Kronwall. Mike Green, Filip Hronek, Danny DeKeyser, Jonathan Ericsson, Trevor Daley, Patrik Nemeth, and Madison Bowey rounds out the defensive core.
Earlier in the summer, I wrote about the WAR predictions for the 2019-20 Red Wings possible lineup, and Kronwall was left out of this calculation. Providing Kronwall hangs up the skates; it would open up a full-time opportunity to see Filip Hronek and Dennis Cholowski with the NHL roster doing their thing and continuing the development into real forces in the NHL. Without Kronwall, the Red Wings could sit players like Ericsson, Daley, and Nemeth to allow Cholowski and Hronek get some playing time.
With an announcement about his decision yet to be made, the Red Wings cannot assume he will hang the skates up and prepare to develop more defenseman. If Kronwall does return to the Red Wings for another season, it sure seems like there will be a logjam of defenseman at the big league level. With Kronwall on the back-end, it becomes much harder to bring up guys like Cholowski AND Oliwer Kaski. A return from Kronwall will stunt the growth of the Red Wings defenseman prospects since there will be a logjam of players.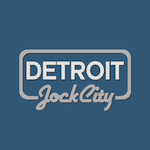 Want your voice heard? Join the Detroit Jock City team!
Write for us!
The simplest explanation of the Kronwall decision is this; he needs to hang them up. Kronwall was a great player during his fifteen-year career with the Red Wings. He was a part of the 2008 Stanley Cup Championship team, part of the Swedish overload of the past, and a leader for this team at the end of his career but it's time to hang it up.