Red Wings: Please remove Luke Glendening from the top line
Listen. I don't have a problem with Luke Glendening wearing a letter for the Detroit Red Wings this season. I'm ok with not trading him. I'm okay with giving him a contract extension for the right price, but please take him off of the top line.
The Detroit Red Wings had a massive void to fill when Anthony Mantha injured himself. He was initially expected to be out with a lower-body injury for a couple of weeks. Perhaps we will see the scoring power-forward within a week or so.
It will be a very welcoming sight for this lackluster offense. It will also get Luke Glendening pushed back down the lineup, but knowing head coach Jeff Blashill he still will refuse to use Luke on the third or fourth line where he should be skating.
Glendening is an excellent role player. He's a right-handed shot who is phenomenal in the face-off circle. He owns a career 54% success rate in the dot, and this season is no different. He's won 53.8% of his draws.
Luke is a reliable two-way forward but lacks any offensive up-side. So, the Detroit Red Wings are struggling to score goals, they lose their top scoring threat to injury, in turn, calling up their top-scoring prospect from Grand Rapids only to skate him on the third line and elevate a checking forward in Glendening. If that doesn't define Jeff Blashill, nothing will.
That's what he does. It's the same philosophy Mike Babcock uses. To give you a quick comparison, Babcock would skate a player like former Michigan Wolverine Zach Hyman more minutes than John Tavares, Mitch Marner, or Auston Matthews on any given night. In today's star-driven league, those three players mentioned should always log Toronto's top minutes among forwards. That's not a knock on Hyman, a player I like. He's a perfect role player there.
The same goes for Detroit. Sure Blashill plays his horse, Dylan Larkin, the most each night. Still, there are way too many occurrences where Valtteri Filppula, Darren Helm, Frans Nielsen, and Luke Glendening receive more minutes than Andreas Athanasiou, Robby Fabbri and the odd time Tyler Bertuzzi. Not so much Bertuzzi anymore, but it still happens from time to time.
Filip Zadina is still trying to find his way in the NHL. He's billed as a scorer. Why isn't he playing 18 TOI minutes a night while he's up? He's only expected to play a total of 9 games before being sent down to preserve his entry-level contract unless he catches fire. Play him with Dylan Larkin and Tyler Bertuzzi and see if he can find a groove rather than being buried on the third line with a struggling Frans Nielsen.
Although Nielsen hasn't provided much offensively, he's outstanding defensively. Blashill should put Glendening and Darren Helm with him on Detroit's third line and play them as a defensive forward unit. So far this season, Glendening has recorded 4 goals and 5 points in 18 games.
His Cori For Percentage is atrocious at 38.1%. He also starts 63.7% of his shifts in the neutral zone or defensive zone, leaving just 36.3% of his five on five shift starts in the offensive zone. So putting him on the top-line makes sense, right? NO.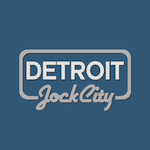 Want your voice heard? Join the Detroit Jock City team!
Write for us!
Every team needs a penalty-killing forward who can win important defensive zone draws. That's the definition of a fourth-line center. Not a first-line winger.