Detroit Lions: Trading for Julian Edelman would be senseless
Recently Bill Simmons joined the Herd hosted by Colin Cowherd, a nationally syndicated Fox Sports program, and mentioned the Detroit Lions were in the market for yet another member of the New England Patriots.
This rumor seems a bit odd, to say the least. On The Herd with Colin Cowherd, Bill Simmons from the Ringer suggests that wide receiver Julian Edelman could be headed to Detroit. Cowherd immediately replied with 'It's talked about' sort of backing Simmons' notion. Why would the Detroit Lions be in the market for a soon to be 34-year old receiver possibly entering the final year of his deal?
The Detroit Lions already have Danny Amendola, who plays the same role Edelman does in New England. The Lions recently signed Amendola to a one-year deal. Would General Manager (GM) Bob Quinn be willing to forfeit a draft pick for Edelman's services and settling with Amendola as a backup? Maybe the Patriots would hope for a much cheaper Amendola in return, but when you figure the 'dead cap' numbers, that doesn't make sense either.
Sure Edelman is a more talented version of Amendola, but Detroit would be wise to spend that money Edelman will cost elsewhere on the roster and be content with Amendola for one more season.
It just doesn't make sense for either franchise at this point.
It's apparent that the Patriots are entering a rebuild now that Tom Brady has moved on to Tampa Bay. New England appears to be willing to move on with unproven Jarrett Stidham as their starting quarterback. They've also reunited with former Michigan State Spartan Brian Hoyer for the third time to provide a calming presence on the bench behind Stidham.
With the Patriots prepared to start the season with an inexperienced quarterback, one would assume having a player like Julian Edelman as the team's top pass catcher will only benefit the young man. Other than Edelman, the Patriots will deploy a couple of second-year receivers who have yet to show they are ready to carry the load along with veteran Mohamed Sanu.
N'Keal Harry looks to be a number one receiver in the making, but injuries and his inability to separate became a cause for concern last season. Jakobi Meyers proved his potential at times last season as a rookie, but is he ready to be a number two receiver? Moving on from Edelman means both second-year receivers will need to step up in a big way.
Last season Edelman caroled 100 receptions, the second-most of his career only behind his 105 grabs in 2013. He amassed 1117 yards, the most of his career, and totaled six receiving touchdowns. Edelman's 2020 cap hit is $9.6 million, and if he's traded or cut, it will cost New England a whopping $8.3 million in dead cap funds. Before the 2021 season, the deal has an opt-out built-in. If he were to play in 2021, his cap hit is worth $6.6 million, and his dead cap number is set at $2.6 million, all according to Spotrac.com.
With Edelman coming off of a career type season, what should the Detroit Lions do? Detroit would have to move some draft capital to obtain Edelman, likely a fourth-round pick. He'd take up nearly all the remaining cap space that's available in free agency unless a player from Detroit was moved in the deal.
Again, there is no doubt Julian is a more productive receiver than Amendola, but if the Lions added another volume receiver that would bolster their pass-catching group, are their enough footballs to go around? Kenny Golladay is a number one receiver and led the league with 11 touchdowns last season, that with Matthew Stafford only playing half the season. Marvin Jones is entering the final year of his deal, Detroit didn't draft tight end T.J. Hockenson to be a bystander, he's expected to see a more significant role within the offense in 2020.
I feel the only way Detroit adds Edelman is if the front office feels they can win the NFC North. After last season's defensive performance, in particular, awarding the Lions the North in April is entirely foolish.
Detroit should hold onto their draft capital with hopes of adding to it. Danny Amendola is quite productive working out of the slot; he reeled in 62 balls totaling 678 yards and a touchdown last season. He accounts for $4.9 million against the cap with a $4.5 million in dead cap figure in 2020.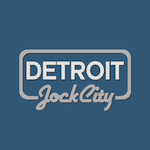 Want your voice heard? Join the Detroit Jock City team!
Write for us!
I don't see the Simmons/Cowherd rumor coming to fruition in Detroit's eyes unless the Patriots were willing to give Edelman away for a sixth or seventh-round pick. If anyone should be interested in Edelman, it's the Tampa Bay Buccaneers, not the Detroit Lions.