Detroit Lions: Trading for Corey Davis good for both organizations
The Detroit Lions should consider trying to add former Western Michigan receiver Corey Davis from the Tennesee Titans.
The Western Michigan product, Corey Davis, enjoyed a phenomenal collegiate career, but it's failed to translate to the NFL. The Tennesee Titans used the fifth overall pick in the 2017 NFL Draft on the talented receiver, but he's been unable to live up to that draft position. He doesn't appear anything close to a first-round talent, yet. The Detroit Lions should consider trading for Davis if the Titans are considering giving up on the 25-year old.
Davis, a Chicago native, cut his teeth with the Western Michigan Broncos excelling in all four seasons. During his four-year college career, Davis amassed 5278 receiving yards on 331 receptions totaling 52 touchdowns.
The talented pass-catcher dominated the division's cornerbacks throughout the Mid-American Conference (MAC). Although it's a division one conference, the talent level isn't nearly the same as the SEC, ACC, or BIG Ten conferences. Playing in the MAC may have altered Davis' statistics some, but it's not to deter his overall potential. It just would have been interesting how Davis would have fared playing in one of the powerhouse college football divisions.
Through three years with the Titans, Davis has yet to eclipse 1000 receiving yards in a single season. Throughout his first three professional seasons, Davis has made 142 catches totaling 1867 yards and six touchdowns. He's produced a catch rate of 57.7%. Last season with a more accurate quarterback in Ryan Tannehill under center, Davis caught a career-high 62.3% of his targets.
Davis also presented a career-high 14 yards per reception capturing 43 balls totaling 601 yards and a mere two touchdowns, that on a career-low 2.9 total targets per game. The Titans are clearly a run-first team; their offense hinges on the punishing running of Derrick Henry. Passing with Tannehill or Mariota (in the past) is always the second option.
Recently similar to what the Detroit Lions decided to do with their starting middle linebacker Jarrad Davis. The Titans elected to forgo picking up Davis' fifth-year option organizations can do with first-round draft picks, making him a free agent at the end of this season.
Davis carries a cap hit of $8.1-million during the 2020 season. Being a former fifth overall pick, Davis earned himself a four-year $25-million rookie contract. It's a deal that averages $6,348,672 over the four years, according to Spotrac.
If the Detroit Lions decided to add a player like Davis, he'd be a cheaper, younger option than Marvin Jones. Davis could prove to be a valuable talent lining up opposite Kenny Golladay on a long-term basis for the Lions. It appears Jones is nearing the end of his Lions tenure as his next contract is expected to be a bit too rich for Detroit.
Davis isn't nearly as impactful as Jones yet. But the young receiver still has plenty of potential, and a change of scenery, we can even call it a homecoming, may do him a world of good. Davis' big-play ability, combined with a 6-foot-3 frame, would have a chance to excel in Detroit with the big arm of Matthew Stafford delivering the football rather than a game manager like Tannehill.
Titans head coach Mike Vrabel and Lions head coach Matt Patricia know one another very well both coming from the New England Patriots coaching tree. Perhaps that could help aid some trade talks between the two sides. I wouldn't rule out a Jones for Davis plus a pick deal.
The Titans are a playoff team that could greatly benefit from a veteran like Jones opposite the young talented A.J. Brown. It's a deal that would help both sides if Detroit could agree to a contract extension with Davis, plus add mid-to-late round draft capital to their organization rather than just letting Jones walk in free agency at the end of the 2020 season.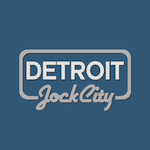 Want your voice heard? Join the Detroit Jock City team!
Write for us!
Jones is expected to warrant around $10-million per season as a 31-year old. Davis should be somewhere about $7 or $8-million per season on a long-term deal as a 26-year old.