Detroit Lions: Danny Amendola's primary focus is making the playoffs
It's receivers Danny Amendola and Kenny Golladay looking beyond personal stats this offseason, the duo hopes to lead the Detroit Lions offense to a playoff birth in 2020.
It's been nothing close to a typical offseason for the NFL, but like other organizations, the players have taken it upon themselves to stay in shape and regulate their workouts in small groups. Recently we caught a video of Detroit Lions veteran receiver Danny Amendola catching footballs off of a Jugs machine. Still, he's also decided to follow his quarterback across the county to continue in-person workouts. When he hasn't been working out with Stafford or the Jugs machine, he's sought out Colt McCoy and Baker Mayfield, who both live in Amendola's neighborhood to catch passes from.
Matthew Stafford had been holding private workouts with Kenny Golladay, Amendola, along with rookie running back D'Andre Swift at his home in Newport Beach, California. The COVID-19 pandemic has slowed workouts, but professionals always find a way to be creative and make things happen in what we hope is a careful manner. Stafford moved his family back to the Atlanta area, and Amendola followed using a private jet as transportation to work out four more days with his franchise quarterback.
The Detroit Lions offense is poised to be an NFL top-ten offense in 2020. Kenny Golladay led the NFL with 11 touchdown receptions last season; impressive, but when you consider Stafford had only been able to compete in eight of those games leading the league seemed nearly impossible.
Marvin Jones, Detroit's second option or option 1B in some eyes, corralled nine touchdowns in 2020. It's a tremendous one-two punch for Darrell Bevell's dynamic offensive scheme. The Detroit Lions enjoyed an immense season from slot receiver Amendola as well as he produced 687 yards on 63 catches in 2020.
It's comical that in the latest edition of the NFL's top-100 players that not one Detroit Lions player made the list. I repeat, Golladay led the league in receiving touchdowns with David Blough and Jeff Driskel throwing him the ball for eight games. Not to mention, Kirk Cousins made the list over Stafford, enough said.
In an article published by Mlive, written by Kyle Meinke, Amendola shares what he and Golladay have been preaching this offseason;
"What Kenny and I talk about now is, you know, we want to win," Amendola said on Wednesday during a video call from his home in Austin, Texas. "We want to get to the playoffs, we want to have a home playoff game at Ford Field. I tell him, as much as I can, there's nothing like that feeling of winning for your city, and that's what we want to see the most. That's what inspires us, that's what pushes us day in and day out. Because we want to win for our club, our city, and we want to represent Detroit."
This quote proves how essential it is to have a veteran like Amendola to bring the young receivers along. I can't think of a better situation for Golladay to be in. He's got a veteran in Jones working opposite him, Amendola mentoring him off of the football field and the tremendous talent of Stafford delivering the football on a weekly basis.
This Detroit offense will be explosive this season, especially if T.J. Hockenson takes an expected step forward during his sophomore season plus the additions of Swift and rookie receiver Quintez Cephus makes for an intriguing unit.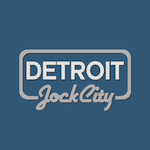 Want your voice heard? Join the Detroit Jock City team!
Write for us!
Early I mentioned a top-ten offense, but if the offensive line can perform well, it's going to be a top-five offense. It seems like a concern every year, and the Lions still haven't done enough this offseason to solidify their line in my eyes. It remains a concern.