Detroit Lions oddly elect to separate rookies from veterans to begin camp
The Detroit Lions oddly decided to split their squad into two groups amid the COVID-19 pandemic to comply with the NFL and NFLPA agreement.
After the two parties finally agreed on how the for the 2020 season will take place among COVID-19, the Detroit Lions had been faced with two options entering training camp. The organization had to either trim their roster down from 90 players to 80 before today's deadline or split their roster into two groups and cut ten players before Aug.16th.
The Detroit Lions decided to keep 90 players rostered and split the squad into two.
The problem with splitting the roster into two groups is that under the agreement, one group will consist of rookie players and second-year players. The other group is veteran players. Each group is permitted to have a quarterback whether he's a rookie or not, that's the only exception.
I understand it can be complicated to cut ten players before the organization even gets to have a look at them. Most of the first players cut would in all likelihood be from the pool of undrafted rookies the Lions signed.
The one primary concern that I have is that the Detroit Lions are expected to start a plethora of rookies this season and not having those players working out, practicing, and shadowing veteran players until mid-August is worrisome.
It means D'Andre Swift will be unable to work with Matthew Stafford and the starting offensive line. Swift is expected to make a sudden impact on the Lions rushing attack this season. A running back needs to work in unison with the offensive line, making sure the timing is perfect between the blocking and the back hitting the hole. I'm not a fan of Swift missing upwards of three weeks of valuable training camp at the expense of having ten players around now that won't be around on August 17th anyway.
The Detroit Lions are expected to have a highly competitive competition within their offensive line as the organization seeks a new starting right guard. The early front runners are both rookies, Jonah Jackson, and Logan Stenberg. Both players will be working apart from the veterans who make up the remainder of the starting offensive line.
I'd rather see both rookies working with Taylor Decker, Joe Dahl, Frank Ragnow, and Halapoulivaati Vaitai. Another name that will be a part of group one is last year's first-round pick, tight end T.J. Hockenson.
We are expecting to see a significant improvement in Hockenson's game in year two; he should be working out with the first-team Lions, not the crop of young players, most of which will be clawing for a job. Hockenson needs to be familiar with Vaitai, the new right tackle, as he will be lining up beside him in-line quite often this year, plus, both route running and timing with Stafford needs to be precise heading into week one of the season.
The most significant piece on defense is third overall pick Jeff Okudah. I'm not as much worried about hampering his progress because he's a man-to-man corner, and the outside corner's in Detroit play a lot of man coverage. I would like to see him shadow a player like Desmond Trufant during the summer hoping to take something from the Pro Bowl corner and add it to his game.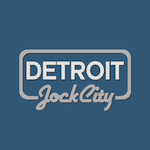 Want your voice heard? Join the Detroit Jock City team!
Write for us!
It's an odd decision to split the group, but maybe there is a larger picture behind the decision that I'm missing. Players started to report today. They will all be tested for COVID-19 three times, all three times needing to test negative before reporting for work on August 1st.