The Detroit Lions will get everything they expect from Adrian Peterson
The Detroit Lions are about to get everything they had expected from both LeGarrette Blount and C.J. Anderson over the past two seasons from Adrian Peterson.
When the Detroit Lions signed Adrian Peterson, it was a mixed reaction. Many fans rushed to show their displeasure via social media, wondering why the organization is adding a 35-year old running back with an abundance of miles on his legs.
Others seemed to understand the move; over the past two seasons, the Detroit Lions tried to secure a power-style running back. Since drafting Kerryon Johnson, the Lions have struggled to find a batterymate to be the thunder to his lightning-like running style.
Also, Johnson has yet to prove to the organization that he is indeed a franchise-type runner. Johnson's time to separate himself from the field is running out quickly; that was made clear after general manager Bob Quinn drafted D'Andre Swift with the 35th pick in the 2020 NFL Draft.
Detroit tried to pair both Blount and Anderson with Johnson over the past two seasons, but both veteran backs struggled to produce. This time Quinn set his sights on a future Hall Of Famer in Adrian Peterson, who had been recently cut from the Washington Football Team.
I'd push my chips to the center of the table and go all-in and say the Detroit Lions will get what they expect from Peterson, unlike the previous two veterans before him. I don't expect 1,500 yards and ten touchdowns, and neither does head coach Matt Patricia or offensive coordinator Darrell Bevell. Peterson also is familiar with Bevell's style of offense as the two worked together for four years in Minnesota when Peterson broke into the league.
I'd expect Peterson to end up somewhere around 800 yards and maybe six scores; don't forget, he's going to start the season as Detroit's second back but in all likelihood fall to third after Swift finds his way at the professional level. Peterson is a perfect guy to have in the film room with the host of inexperienced runners on the current roster.
Last season Peterson averaged 4.3 yards per carry, totaling 898 rushing yards and found the endzone five times. Peterson compiled an impressive 524 rushing yards after contact, which equals 58% of his total yards. In comparison, Bo Scarbrough averaged 4.2 yards per carry, and 51% of his yardage came after contact.
Some folks thought Scarbrough did enough to solidify himself in the role Peterson is expected to fill, but it turns out Detroit will have both backs this season, despite starting the season on IR. One player that Detroit tried to sneak onto the practice squad was rookie runner Jason Huntley, but the Eagles claimed him on waivers.
It sucks losing a dynamic returner and receiving back that can line up in the slot, but Detroit saw enough from Jamal Agnew as he made the transition from defense to offense, and he's a proven return man.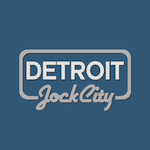 Want your voice heard? Join the Detroit Jock City team!
Write for us!
The addition of Peterson will prove to be much more impactful than the loss of Huntley.