Detroit Red Wings should target Chris Tanev in free agency
The Detroit Red Wings should consider signing free agent defenseman Chris Tanev this offseason.
It's expected to be a hectic offseason for the Detroit Red Wings and general manager Steve Yzerman. Yzerman may oversee the Red Wings taking on a bad contract or two from a cap stricken team with the 2020-21 salary cap set to freeze besides adding some much-needed draft capital as compensation for taking an ugly deal.
Aside from what may be a very active trade market this Fall, Yzerman will also be scouring the free-agent market looking to add players that can help this organization for years to come. I don't expect Yzerman to circle many veterans he'd like to flip at the trade deadline to playoff teams on a rental basis because many of those teams will be up against the cap.
The goaltender position is one that Detroit may opt to bring in a player that is in his mid-30s if they fail to land someone like Robin Lehner or Jacob Markstrom.
The Detroit Red Wings have a significant decision to make regarding who to draft with the fourth overall pick in the 2020 NHL Entry Level Draft.
Now, I don't expect whoever Detroit picks to make an immediate impact next season so that it may be a moot point, but if Yzerman selects a defenseman like Jamie Drysdale, hoping to pair him with Filip Hronek and Moritz Seider. Suddenly the organization will have three defenders to anchor this organization for the next decade.
Yzerman will undoubtedly also be looking to bolster the defense corps in free agency after having three roster spots opened up after this season. Detroit traded away Mike Green, who since retired, and both Jonathan Ericsson and Trevor Daley's contracts have expired. That leaves Hronek, Danny DeKeyser, Patrik Nemeth, Alex Biega, and maybe Madison Bowey, who is currently a pending restricted free agent.
It's a roster with room to add a couple of defenders, along with allowing players like Seider and Dennis Cholowski an opportunity to become regulars in the lineup from day one next season.
Detroit should welcome a defenseman like Chris Tanev to the roster with open arms. The Vancouver Canucks won't have the funds to extend Tanev unless they can move a big contract or two. The ideal player to trade would be Loui Eriksson, but that's a tough sell. Eriksson a 35-year old that earns $6 million per season and under contract for two more years. Last season Eriksson recorded six goals and totaled 13 points in 49 games.
Tanev is a steady right-handed defender that averages nearly 20 minutes of ice-time per night. He's best suited playing as a second-pairing defenceman and would fit in nicely paired with the often injured DeKeyser behind Hronek and Nemeth.
Tanev is coming off of a deal that averages $4.5 million per season and will be looking to make somewhere around $5 per on a long-term contract. Tanev, at 30-years old, may be able to garner another five-year deal at this point in his career.
The ten-year veteran has compiled 118 points through 514 games. He's a defensive-minded defender and a good penalty killer. This past season Tanev's Corsi For Percentage dipped to 45.2% but has maintained a career average just shy of 50%.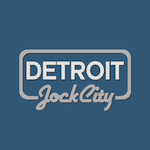 Want your voice heard? Join the Detroit Jock City team!
Write for us!
Tanev's presence on the blueline will give the Detroit Red Wings a stable, reliable veteran with plenty of tread left on his tires, along with having the ability to mentor the young up and coming young defensemen currently in the organization.