Detroit Lions: Hopefully Jonathan Taylor does not become 'that' back
The Detroit Lions had the pick of the litter aside from Clyde Edwards-Helaire at the running back position when they arrived on the board with the 35th overall pick in the 2020 NFL Draft. Now, is Jonathan Taylor going to be 'that' back?
Before I get into this, I must state that at the time of the draft, I felt D'Andre Swift had been the most complete running back in the entire 2020 draft class. I also continue to refer to Swift as the best Detroit Lions running back since Barry Sanders and am not about to change my opinion after the first three games of the season. Although I will say this, Adrian Peterson is the best running back the organization has seen since Barry.
Through the first three games of the regular season, it's been Peterson shouldering the largest workload among the backs rostered. The Lions are so confident with their 'three-headed monster' of a backfield they recently waived second-year man Ty Johnson.
Bob Quinn indeed hoped Johnson cleared waivers to be placed on the teams' practice squad, but he was scooped up by the New York Jets. Poor Ty, I don't wish that on anyone.
Through the first three games, Peterson has compiled a team-leading 43 rushing attempts followed by Kerryon Johnson at 18 and the rookie Swift coming in with just eight. Swift does have nine receptions totaling 94 yards, which leads the group. According to Pro Football Focus (PFF), Kerryon is the top pass-protecting back in all of football through the first three games.
That being said, I can't help but wonder how the Detroit Lions offense would be operating with Jonathan Taylor as their lead back.
Jonathan Taylor is the primary runner with the Indianapolis Colts, and the job is about as secure as it gets now after Marlon Mack suffered a season-ending Achilles injury.
Here's the thing; if Detroit had drafted Taylor, they'd likely avoiding bringing in Peterson. Peterson is proving to be timeless and still useful as a runner, plus he's providing to be a valuable mentor to the young running backs on this Lions roster.
Taylor has rushed for 182 yards and a pair of touchdowns on 42 totes behind one of the leagues' top offensive lines. That is an average of 3.8 yards per carry. Peterson has 209 yards on his 43 carries, averaging 4.9 yards per touch.
When the Colts drafted Taylor six picks after the Lions, and the excitement of drafting Swift somewhat wore off, I wondered if Taylor would happen to be 'that running back.' You know, that running back, we will look back on in three years and wished Detroit drafted. That running back, that is a top-five tailback in all of football. And don't forget, Taylor fits Darrell Bevell's offense perfectly but lacks some the receiving skills both Kerryon Johnson and Swift provide.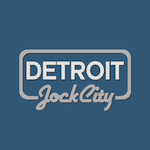 Want your voice heard? Join the Detroit Jock City team!
Write for us!
Only time will tell, but Swift still has plenty of time to emerge into the back many of us feel he can and will be, plus he has a tremendous mentor for at least a season to model his practice, game-prep, and studying after.