Red Wings: Riley Barber signing two-year deal is an intriguing addition
The Detroit Red Wings signed forward Riley Barber to a two-year contract on the first day of free agency, an intriguing addition by Steve Yzerman.
As the notable signings for the Detroit Red Wings on the first day of free agency come in the form of Bobby Ryan and Jon Merrill, the team made three other menial signings. The two-year contract agreement with forward Riley Barber seems like it could be interesting to keep an eye on.
While Barber could realistically be a depth addition for the Grand Rapids Griffins, given they can get some sort of a 2020-21 season underway, there is some intrigue. Given the current state of the Red Wings organization, it is likely that he will find himself in the NHL for some stints in the midst of the rebuild.
Barber is a 26-year-old right-winger who has played in games for four different AHL affiliates and two NHL teams since the 2015-16 season. He is a 6-foot, 194-pound build, and was drafted by the Washington Capitals in the sixth round of the 2012 NHL Entry Draft.
Before his professional career, Barber played his college hockey at Miami (Ohio) University for the RedHawks.
There he was a teammate of 2019-20 Stanley Cup Champion Blake Coleman who is currently a member of the Tampa Bay Lightning through the 2020-21 season.
This RedHawks roster also featured other future NHL talents like Louis Belpedio, Austin Czarnik, and Sean Kuraly during Barber's time there.
During his time with at Miami, Riley Barber was exceptionally productive and part of an impressive RedHawks team in 2014-15.
While at Miami with the RedHawks, Barber would score 15 goals and 24 assists for 39 points over 40 games in his first year, during the 2012-13 season. The (also) former United States National Team Development Program (USNTDP) product would follow his first NCAA season up with 19 goals and 25 assists for 44 total points over 38 games played in 2013-14.
In his third and final season at Miami, Barber would score 20 goals and 20 assists for 40 total points over 38 games. Barber's performance at the NCAA level was impressive as he was second in scoring each of his three years in a RedHawks uniform.
The 2014-15 season is where the RedHawks would win the National Collegiate Hockey Conference (NCHC) championship game 3-2 over St. Cloud State University. Barber sustained an injury in the NCHC title game, and Coleman was tossed from this game and suspended from the first round of the NCAA tournament.
They would advance to a Regional Semifinal in the NCAA tournament taking on Providence College. The RedHawks would ultimately fall to Providence in that game, in a 7-5 loss without Barber and Coleman in the lineup.
Former Miami Hockey Media Relations contact Chad Twaro commented on the matter in an interview with myself that this Miami team was geared up for a National Championship run in 2014-15.
He noted that this team's makeup was built for success and could have made a nice run through the NCAA tournament. However, Barber was playing incredibly well, and the injury took away one of the RedHawks' primary scorers, not to mention losing out on Coleman's presence also hurt.
After three successful years at Miami, Barber made the transition into the AHL, where he joined the Hershey Bears. This ushered in a new era for him as he moved into the minor leagues and started getting accustomed to professional hockey.
Being optimistic, the hope for Riley Barber will be that he can find a way to stick, if and when the Detroit Red Wings give him a chance at the NHL level.
His minor league career has seen him put up points and be productive. However, in his total of 12 games at the NHL level, Barber has failed to register a point. Twaro mentioned that Barber has a phenomenal wrist shot with a quick release that adds to his skill set.
This is something that attributes to his offensive success at Miami and the success he has found in the AHL over the years. Given that he has been able to put up nearly a point per game in recent seasons in the AHL, Barber might be able to translate that success.
In NHL stints so far, things have not gone great, as evident by his zero points, but the hope is, under less pressure on a rebuilding team when Barber is called up and given chances, he can make the most of it.
While the attention of the Red Wings offseason signings will be on Merrill or Ryan, this signing of Barber could sneak up and become something to watch, especially on a two-year deal.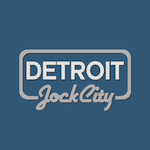 Want your voice heard? Join the Detroit Jock City team!
Write for us!
At a minimum, the Grand Rapids Griffins should see a boost in offense from Barber, who seemingly has been able to settle in and show his offensive prowess at the AHL level.