Michigan Football: Wolverines will go as far as Joe Milton takes them
The Michigan football team will turn the reins of their offense over to young Joe Milton. The dual-threat quarterback quietly has plenty to prove.
It seems the Michigan football hype is a bit more shelved entering the 2020 season. This may be a good thing for head coach Jim Harbaugh and the Wolverines. Usually, entering the season, we're always talking about 'this' being the year Michigan will edge the Buckeyes in late November, in turn, finally launching themselves into the college football playoff.
Like every football team, we generally start with the quarterback position when generating an overall opinion and preseason prediction.
In the past many of us, myself included overhyped quarterbacks like Tate Forcier, Steven Threet, Devin Gardner, Wilton Speight, Brandon Peters, John O'Korn, and Shea Patterson.
I refuse to do this with Joe Milton, although early last season during Patterson's struggles, I had hoped Harbaugh turned the keys over to Milton. Despite trying to shelf my excitement, Milton remained intriguing, but just then, Patterson started to play better, leaving us nearly an entire calendar year before having a chance to see this dual-threat phenom as the Michigan football starter. I'm excited to see Milton go to work in Minnesota Saturday and then construct a more formidable decision on where I expect he can lead the Wolverines.
It's not an overreaction to say this season; it's Milton or bust for the Wolverines.
Harbaugh doesn't have Dylan McCaffery to use in a gimmick role; after not earning himself the starting gig, McCaffery decided to opt-out of the season and sought a transfer looking for a better opportunity for himself.
It's also a massive season for Harbaugh, who is entering the 2020 season without having a contract extension in place. For a coach that had been deemed a quarterback whisperer, his future may weigh in the balance of Milton's success.
Milton recently received a tremendous endorsement from a former teammate. Receiver Nico Collins who also elected to opt-out of the 2020 season, compared Milton to Cam Newton. It's high praise. Reports state that Milton can throw the football 70-yards downfield, along with owning 4.3 forty-yard dash-type speed, that being a 6-foot-5, 245-pound quarterback.
Harbaugh had tremendous success coaching Andrew Luck during his Stanford days. Jim also played a crucial role in turning Alex Smith's career around in San Francisco before turning the keys over to Colin Kaepernick who excelled under Harbaugh's guidance. This helped Harbaugh land this 'quarterback whisperer' title.
Since Jim hasn't had nearly the same success with the Wolverine quarterbacks, he saw some positive results with Jake Rudock but failed to help Patterson perform at a level that had been expected of his skill-set. In Patterson's second year with Harbaugh, you could make a strong case that Patterson regressed.
Milton enters his junior year, having completed six of his 11 passing attempts totaling 117 yards. He's thrown for one touchdown and two interceptions. Milton has also tallied 12 rushing attempts adding 47 yards and two touchdowns.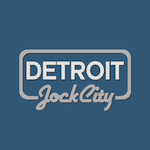 Want your voice heard? Join the Detroit Jock City team!
Write for us!
Let's hope Harbaugh finds a way to elevate Milton in a similar fashion to Luck and Kaepernick rather than Patterson and Speight or it will be a long season for the Wolverines in the Big Ten.