Detroit Pistons: Could injury to Klay Thompson halt a Blake Griffin trade?
As the 2020 NBA Draft quickly approaches, an interesting trade rumor continues to surface including Detroit Pistons star forward Blake Griffin.
Rumors are rumors, so take that with a grain of salt, but the rumor would send Detroit Pistons' Blake Griffin and the seventh overall pick in tonight's 2020 NBA Draft to Golden State in exchange for Andrew Wiggins for the second overall pick is at the very least intriguing.
The idea is that Griffin's lucrative deal expires in two years exactly when the Warriors would need to extend both of their superstars, Klay Thompson and Steph Curry. The splash brothers both missed the majority of last season due to injury and could use a polished player in the frontcourt like Griffin rather than simply drafting a rookie in James Wiseman if they are hoping to re-tool for another championship run.
Also, if Griffin were to land in Golden State, they'd be able to carefully manage his minutes moving forward, knowing all of his injury concerns present and past.
An unfortunate circumstance that may throw a wrench into this whole idea may have just occurred. According to The Athletic's Shams Charania, Klay Thompson may have seriously re-injured himself Wednesday night.
If Thompson is indeed seriously re-injured, the Warriors may elect to ride this out, keeping Wiggins to pair with Curry along with drafting a young, cheap player second overall rather than go 'all-in' with a Griffin trade.
Wiggins is owed $29.5, $31.5, $33.6-million in each of the next three seasons. Wiggins is just 25-years old and wouldn't be a bad option for the Pistons moving forward.
Wiggins averaged 21.8 points per game, 5.1 boards, and 3.7 assists per game last season.
Griffin averaged a career-high 24.5 points per game two years ago but managed to only play in 18 games last season, averaging just 15.5 points per game. Griffin is due $36.6 and $38.9 million per season over the next two years.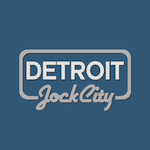 Want your voice heard? Join the Detroit Jock City team!
Write for us!
Trade Update: Per ESPN Insider Adrian Wojnarowski; the Detroit Pistons have traded a future first-round pick to the Houston Rockets in exchange for veteran forward Trevor Ariza and the 16th overall pick in the first round of the NBA Draft. Perhaps the Pistons will entertain trading picks seven and 16 for the second overall choice without adding Wiggins and Griffin into the deal.