Detroit Lions: Marvin Jones will be missed but it's time to move on
Detroit Lions receiver Marvin Jones is excited to test free agency.
It's become apparent that the Marvin Jones era with the Detroit Lions is coming to an end. Jones has spent the last five seasons as Matthew Stafford's favorite pass-catcher, but those days are about to come to an end as the pending free agent receiver is excited to dip his toes back into the open market.
Before starting the 2020 NFL season, Jones' name had been constantly married with trade talks surrounding the Detroit Lions. It was expected that the Lions would try and flip Jones for some draft capital rather than see the veteran pass-catcher play out the season only to lose him in free agent garnering nothing in return.
It seems the tide shifted once general manager Bob Quinn and head coach Matt Patricia understood the sanctions then team owner Martha Firestone Ford had placed on the organization and management team to perform or gather at the unemployment line would be carried over by newly appointed owner Sheila Ford Hamp.
Detroit Lions management decided to maintain Jones' services in hopes of playing what Lions' ownership deemed 'meaningful' regular-season games come December. Not only did those sanctions surely affect Detroit's decision to draft Jeff Okudah third overall rather than a quarterback who'd be asked to sit behind Stafford for the first year or two being groomed for the role. Instead, Lions management hindered the future of the organization trying to save their jobs; it didn't work.
Ford Hamp stuck true to her mother's word and opted to fire both Quinn and Patricia after yet another lackluster season, the third in a row.
Five years ago, the Detroit Lions needed to replace the recently retired Calvin Johnson's production and decided to sign Jones to be their new number one option. Jones is best known for making contested acrobatic down-field grabs while averaging 823 yards and nearly seven touchdowns per season over the last five seasons while maintaining a 60% catch rate. Something quite impressive to note, Jones has never fumbled the football during his time in Detroit.
The Lions will find themselves with an unfortunate circumstance heading into 2021; the entire receiving room is heading into free agency except for rookie Quintez Cephus. Not only will Jones be playing elsewhere, but there is a chance star receiver Kenny Golladay is dawning another jersey in 2021 unless the Lions decide to use the franchise tag to retain his services.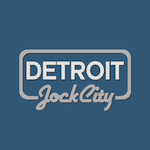 Want your voice heard? Join the Detroit Jock City team!
Write for us!
With Jones nearly 31-years of age, it's time to move on; the Detroit Lions will look to re-shape their receiving options via free agency and the NFL Draft.