Detroit Pistons: Three players that need to step up without Killian Hayes
Three players who need to step-up for the Detroit Pistons after losing Killian Hayes to injury.
Disaster struck the Detroit Pistons when prized rookie point guard Killian Hayes suffered a labral tear in his right hip. This news was especially devastating, considering Hayes' development was a primary focus of the season.
However, not all is lost as the Detroit Pistons' other young pieces will still need to develop this year. The best way for that to happen is to continue to play hard and competitive games. Here is who will need to step up for that to happen.
Delon Wright
Delon Wright started both games at point guard post-injury. He struggled in the first game but played well in a nice victory over Phoenix, logging 16 points and six assists. Wright came to Detroit for a bigger opportunity to play on the ball and will definitely get that as the starting point guard.
The Pistons will need him to be a shot creator off the dribble and in the pick and roll, but more importantly, they will need him to step up as a passer. Wright is more of a combo guard than a true point guard, so this will be an adjustment for him. If he can play as a true point guard, it will help the Pistons in both the short run and player development long term.
Blake Griffin
As stated before, Wright is more of a combo guard than a point guard, so replacing Hayes' passing will require more than just him. Blake Griffin should also help fill in the gaps in playmaking by the Hayes absence. At this point in his career, Griffin's basketball IQ and craftiness are his greatest asset. In the current starting lineup, Griffin is probably the best passer of the bunch.
Even at the power forward spot, the Detroit Pistons could use Griffin to quarterback the offense. Using Griffin to do that, the young players can work off-ball and not force them into roles they are not comfortable in. Despite his waning athleticism, Griffin's intelligence will allow him to positively impact and help the rest of the team grow.
Sviatoslav Mykhailiuk
Delon Wright joining the starting lineup means someone will need to step up in the second unit as a secondary creator next to Derrick Rose. This is a great opportunity for Sviatoslav Mykhailiuk to step up and improve his game.
Up to this point, Svi has mostly been utilized as an off-ball weapon, running off screens and spacing the floor. He has shown an improved ability as a pick and roll ball handler and shot creator but in only small doses. He even has done a good job driving and kicking this year, which we hadn't seen in the past. If Svi can continue to do this efficiently, but in larger doses, the second unit can keep going without missing a beat.
Hayes' injury is incredibly unfortunate, and there is no sugar coating it, but the Pistons can't just give up and waste the rest of the season. The Pistons must continue to play hard and be competitive to allow their young players to grow into productive NBA players.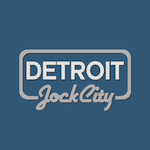 Want your voice heard? Join the Detroit Jock City team!
Write for us!
Delon Wright, Blake Griffin, and Svi Mykhailuk all have opportunities to step up and fill in what Hayes can do. Hopefully, Hayes will be back soon, but the Pistons have all the players they need to compete on a nightly basis.