Detroit Red Wings: Dylan Larkin poised to be named next captain
Detroit Red Wings center Dylan Larkin won't just make for a perfect captain on the ice, but off the ice as well.
Detroit Red Wings general manager Steve Yzerman is expected to announce the teams' next captain before Thursday's season opener against the Carolina Hurricanes. All signs point to Michigan native Dylan Larkin.
The product of Waterford, Michigan, is already set to enter his sixth NHL season. I swear, don't blink. I can still see Larkin skating as a member of the Michigan Wolverines. I still recall the moment former general manager Ken Holland drafted Larkin with the 15th overall pick in the 2014 NHL Entry Level Draft.
The NHL Network displayed a graphic with Larkin's photo, talked about his accomplishments to that point in his career, but also presented a statement saying; a future NHL captain.
Well, not only was whoever made that graphic correct, but that day appears to be very close. On the eve of the Detroit Red Wings season opener, I can't help but wonder when this announcement will occur.
Is it coming today?
Perhaps the organization won't make a formal announcement, and Larkin simply emerges from the tunnel Thursday inside an empty Little Caesars Arena with the 'C' on his jersey?
If that is the desired route, it's just another reason to curse this coronavirus from taking away what would be a ruckus crowd reacting to the jumbotron the first time Larkin appears with the captaincy on his chest.
In fact, Larkin has had various conversations with Yzerman about what it means to be a Red Wing, an NHLer, a good teammate, and a leader.
"My conversations with Steve since he has come back to the Red Wings have always been about being a good teammate, being someone that is a good professional, someone that is proud being a Red Wing," Larkin said. "Doing it right. Working hard.

"For me, buying into that, it's not something that's hard to do. It's something that the past leaders that I have been around in this locker room have done and they've done every day. I've tried to bring that every day."
Dylan Larkin isn't just Detroit's top player on the ice; he's turned into a stellar leader off the ice as well.
This past November, when newly signed forward Bobby Ryan arrived in Detroit, he phoned Larkin asking about the golf course, Arcadia Bluffs. Before he headed out for a solo round, Larkin had a better idea.
Larkin didn't just offer to join the veteran Ryan; he elected to bring along teammates Robby Fabbri and Tyler Bertuzzi.
This wasn't just a friendly gesture; it's exactly what a captain does. The Red Wings' organization is in good hands for the next number of years, with Larkin steering the ship.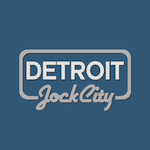 Want your voice heard? Join the Detroit Jock City team!
Write for us!
Over his first five seasons with the Detroit Red Wings, Larkin has amassed 266 points in 389 games. Expect big things from the 'soon-to-be' captain in 2021.