Detroit Pistons: Andre Drummond a perfect fit if he stays true to his word
Former Detroit Pistons star center Andre Drummond will look to win a ring with the reigning NBA Champion Los Angeles Lakers.
The addition of Drummond couldn't come at a better time for the reeling Lakers after losing LeBron James, who is expected to miss between four to six weeks with an ankle injury. It's a Laker unit that had been sputtering already missing Anthony Davis. While the star power-forward and superb shot blocker had been recently cleared for more on-court activities, he still remains a ways away from returning.
Drummond won't be the Lakers' savior by any means. Still, he will provide the team with an anchor inside and a wonderful complimentary third piece when James and Davis return to the lineup just in time for another playoff run.
It's a Laker team that will be built on defense heading into the playoffs, and pairing Drummond with Davis will quickly account for the top duo of rim protectors in the league.
The former Detroit Pistons' center hasn't appeared in an NBA game in about a month.
After failing to agree to a trade, the Cavilers bought out the remainder of Drummond's lucrative $29.5 million deal. After signing in L.A. for less than $800,000 for the remainder of the season, that was about the amount Andre returned to the Cavs. It's not much on the grand scheme of things, but Drummond returned the cash as a parting gift for allowing him the ability to chase a title.
Andre is saying all the right things early on.
"For me, I'm just here to help in any capacity," Drummond explained. "I'm not here to do anything besides win." He went on to add that he's lost between 10 and 15 pounds since being benched by Cleveland.
I'm not sure what the future holds for the 27-year old pending free agent, but if everything clicks in L.A. I wouldn't be surprised if the Lakers try to extend the big-man somehow. It's been apparent this season the Lakers have missed the defensive presence of veteran center Dwight Howard and JaVale McGee this season, and Drummond is just what the doctor ordered.
The Former Detroit Pistons' center had other options that included the Boston Celtics and New York Knicks but felt the best fit would be Los Angeles.
Let's be serious for a second; it couldn't have been much of a decision knowing he'd have an opportunity to play alongside James and Davis. Plus, the West Coast isn't a bad place to hang out.
Drummond will join a pair of his former Detroit Pistons teammates in L.A. reuniting with Kentavious Caldwell-Pope and Markieff Morris, both of which are in the Lakers starting lineup due to injuries.
The addition will allow Davis to play the four when he returns and somewhat shy away from the physicality needed to play the center position, helping preserve his body. Drummond is a clear upgrade to Marc Gasol and Montrezl Harrell at the position.
If Drummond buys-in to his role and is genuinely committed to playing defense, this should be a perfect fit for all parties involved.
At times during his Detroit Pistons days, he'd be eager to bark about what he felt was a missed call on the offensive end, allowing his opponents an odd-man-rush the other way. Some will call it lazy, some will refer to it as whiny, and in certain situations, Andre unquestionably displayed both. Also, his rebound numbers throughout his career are without a doubt inflated as he's often corralling his own miss; sometimes numerous times in the same possession.
I believe James and Davis will hold Drummond accountable; that should translate to the most effective performances from the big-man we've ever seen.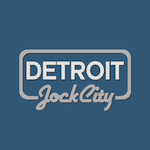 Want your voice heard? Join the Detroit Jock City team!
Write for us!
He's averaged 17.5 points, 13.5 boards, and 2.6 assists this season with Cleveland. In eight seasons with the Detroit Pistons, Drummond averaged 14.4 points and 13.9 rebounds per night.