Demarcus Robinson turned down an offer from the Detroit Lions
Free Agent receiver Demarcus Robinson chose to resign with the Kansas City Chiefs rather than accept a similar offer from the Detroit Lions, where he'd have a more prominent role.
This news will make one of our regular readers pretty disappointed. Sorry, Joe. After quickly identifying that the Detroit Lions receiver room empty, it was apparent the entire group aside from Quintez Cephus would need to be overhauled.
The team's top pass-catcher Kenny Golladay avoided being franchise-tagged by the new regime. The star receiver eventually signed a very lucrative four-year deal with the New York Giants worth a staggering $72-million, including $40-million in guaranteed funds.
Despite being rumored to join his good friend and former quarterback Matthew Stafford in Los Angeles with the Rams, the teams' number two receiver Marvin Jones signed a team-friendly two-year deal with the rebuilding Jacksonville Jaguars.
Jones' deal is worth $12.5 million, with $9-million in total guaranteed money. Not only is teaming up with rookie quarterback Trevor Lawrence, who will be the first overall pick in the 2021 NFL Draft, enticing but also joining newly appointed head coach Urban Meyer surely played a role in Jones' decision.
Also joining Jones in Jacksonville is Detroit's former elite return man, Jamal Agnew. Agnew is a gadget-type player that broke into the league as a cornerback that moved to the receiver room last season. Agnew signed an imposing three-year deal worth $14.25 million with $4-million in guaranteed money.
The Detroit Lions quickly signed a trio of replacements led by Tyrell Williams, who played offensive coordinator Anthony Lynn with the Chargers. The Lions also signed Breshad Perriman and Damion Ratley as they begin to fill out their roster.
Demarcus Robinson turned down an offer from the Detroit Lions.
Can you really blame him? If the money had been similar as reported, the Lions likely didn't have a shot at signing Robinson. The gifted receiver will continue to play with Patrick Mahomes behind the likes of Tyreek Hill, Mecole Hardman, Byron Pringle on the depth chart but don't forget about Travis Kelce and the plethora of running backs that need to eat too.
In Detroit, Robinson would have had an opportunity to work as a WR 2, or maybe even as the primary pass-catcher heading into next season but decided to remain in Andy Reid's spectacular offense.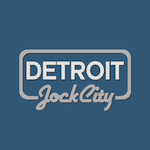 Want your voice heard? Join the Detroit Jock City team!
Write for us!
The 26-year old made 45 receptions, totaling 466 yards and three touchdowns in 2020.