Detroit Red Wings: Patrick Marleau surpasses Gordie Howe on All-Time list
April 19th, 2021, will be a night to remember for NHL historians, and particularly San Jose Sharks fans, along with Patrick Marleau fans. The 41-year old, ever-so-durable forward accomplished something many thought could not be done; he broke former Detroit Red Wings legend Gordie Howe's record of 1,767 NHL games played Monday night in Vegas.
It's a record that seemed etched in stone, but this once again proves that records are made to be broken.
Four-time Stanley Cup winner and Detroit Red Wings great Gordie Howe set the record back in 1980, and like Wayne Gretzky's all-time point total seemed out of reach.
I applaud Marleau, but if I can be completely candid, deep down, I had hoped maybe Marleau entertained the idea of tying the record and sitting out the remainder of the season. Knowing the Sharks are hanging around in the NHL playoff hunt, it wouldn't be considered. I know it's a selfish way to think, but being a Red Wings fan, I'm lying if I didn't say the notion crossed my mind.
History was made Monday night in the NHL as Patrick Marleau broke former Detroit Red Wings legend Gordie Howe's All-Time games played record.
One thing Detroit Red Wings fans can hang their hat on is the fact that Mr. Hockey also played a whopping 419 games in the WHA after his 25-year career as a Red Wing ended. Imagine that Howe totaled 1,687 NHL games as a member of the Detroit Red Wings totaling 1,809 points. It's safe to say those are franchise-record numbers that won't be broken.
Howe went on to play four seasons with the Houston Aeros, where he'd enjoy playing alongside his two sons Mark and Marty, followed by two seasons with the New England Whalers.
After those six WHA seasons, Howe remained with the Whalers organization for one more season as the NHL and WHA merged and the Whalers became the Hartford Whalers. During the 1979-80 season, Howe returned to Joe Louis Arena for the NHL All-Star game. While it was Howe's 23rd and final All-Star appearance, it would be 19-year old Gretzky's first.
The footage will give anyone with a pulse goosebumps.
Marleau has enjoyed a tremendous career, although the Stanley Cup has eluded the veteran forward over the course of his career. He does have two Olympic Gold Medals to go with his three All-Star appearances, which only helps cement Marleau's legacy as a future Hall Of Famer. He's recorded 1,196 points in now a record 1,768 career games and counting.
There is a unique similarity between Howe and Marleau; they are both from Saskatchewan. Sportsnet recently covered the memorable evening with a title called 'Prairie Grit,' and I feel it's so fitting. You need to have a certain type of 'grit' to play this many games in the league.
Marleau has displayed an elite skating ability throughout his career, blended with superb skill. He's also a modern-day iron man, having not missed a game since he was a 29-year old.
The veteran forward also spent brief stints with the Toronto Maple Leafs and Pittsburgh Penguins in addition to his 21 seasons with the Sharks. He's recorded four goals and added four assists with San Jose this season.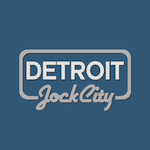 Want your voice heard? Join the Detroit Jock City team!
Write for us!
The 41-year old has played 899 consecutive games. Perhaps not as impressive as Cal Ripken's MLB record of 2,632 consecutive games but still remarkable in its own right.