Detroit Red Wings: Jakub Vrána was a gift from the Capitals
The Detroit Red Wings acquired forward Jakub Vrána this year at the trade deadline. He was a piece of the blockbuster Anthony Mantha trade, and frankly, Vrána was a great addition and will continue to be an exceptional addition to the team.
Honestly, giving up Mantha was a hefty price, but the Detroit Red Wings better send a nice thank you note back over to the Capitals for giving us Vrána in the return package. Now, at IIHF, World's Vrána is finding ways to impress with his two goals and two assists over six games played.
The Red Wings have seemingly got the better of this trade, while both sides got something good. The Capitals may have lost out of the playoffs, but Mantha was a solid addition to their top-six forwards.
As the years go on, Vrána should continue to develop even further as a well-rounded forward. The change over to the Red Wings was quite kind, even on a team that struggled to score whatsoever. Vrána is going to be around for some time and that is great for the Red Wings.
Detroit Red Wings forward Jakub Vrána was a real gift from the Washington Capitals.
In 2020-21, Vrána logged 50 total games on the season between his time with the Capitals and Red Wings.
He had 19 goals and 17 assists for 36 total points on the season. Vrána settled in during his short time with the Red Wings.
He went on to play 11 games in Hockeytown where he had eight goals and three assists for 11 total points.
One heck of a start for a team who was a dumpster fire and little to no offense. The 25-year-old forward is a restricted free agent and should be kept around.
He is also arbitration-eligible so he will either strike a deal with the organization or head to arbitration and be back for the 2021-22 season.
If Vrána continues to play as well as he has in his first stint with the team, he should be given an extension.
Bringing Vrána in for the long haul should be an excellent move for the organization. I am sticking to my opinion that Vrána would excel alongside Filip Zadina as the two settle into their own. Vrána is settled into the NHL but needs to settle in over a full season with the Red Wings.
On the other hand, Zadina needs to pop off in the scoring department which should happen, meaning that the Czech connection could be a real pipeline for scoring in the years to come. Now, this does not mean that Vrána and Zadina are going to pop off for 30 goals each next season but it should help fix the lack of scoring that the Red Wings have experienced.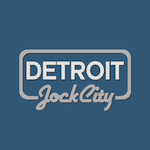 Want your voice heard? Join the Detroit Jock City team!
Write for us!
One thing is certain, the Detroit Red Wings struck gold when they picked up Jakub Vrána in the blockbuster trade this past season.