Detroit Pistons draft preview: Gonzaga guard, Jalen Suggs
As the regular season made evident, the Detroit Pistons are sorely lacking guard depth. With a slim salary cap margin, free agency will likely not solve many of their problems. Instead, they will have to look to the draft as a possible feeder for the position.
Jalen Suggs was a big part of one of the highest-profile programs in college basketball in 2021. The Gonzaga Bulldogs entered the season at the top of the AP poll, a status they maintained the entire year. This was buoyed by the fact they won every game in the regular season and nearly every game in the tournament. Falling to Baylor in the championship game was the only blemish to becoming the first undefeated team in over 40 years.
Suggs started 30 games for the Bulldogs, missing two games due to a leg injury. He averaged 14.4 points per game on a team that led the country in scoring.
He also chipped in 4.5 assists and 5.3 rebounds. Those numbers may sound unremarkable in a vacuum. Still, he was the natural leader to a group en route to the championship game, and there is no reason to think this would not translate immediately at the professional level.
Jalen Suggs is the best fit for the Detroit Pistons' future. If he is available, they need to consider him as the top option.
Suggs is a stellar two-way player, standing out on both ends of the court. At 6'4″ and 205 pounds, he has some size and does not get pushed around. He has a positive net rating of 21.6, meaning his offense outweighs his defensive stops fairly substantially.
This is largely due to his forced turnovers, as he averaged 1.9 steals per game. His size also allows him to control some rebounds on the defensive end. He also shoots well from the floor at 50.3%. So, where does Suggs need to improve? His three-point shooting could be better; he shot 33.7% in his year at Gonzaga.
It is impossible to avoid Gonzaga's collapse in the championship game. Baylor more or less blew them out in a game that was never particularly close. Suggs had the best offensive game for his team, shooting 8 of 15 for 22 points, including 2 for 5 threes.
Unfortunately for the Bulldogs, Baylor was able to shut down fellow first-round projected pick, Corey Kispert, holding him to just 12 points. Baylor also benefitted from senior Mark Vital securing eight offensive rebounds, effectively adding another point per four possessions.
Gonzaga might never have been in the final game, though, if it were not for Jalen Suggs. In fact, many will remember the Final Four game against UCLA two days prior as one of the most exciting games of the entire tournament and Suggs' crowning achievement in college.
First, he applied pressure (without fouling) to UCLA guard Johnny Juzang to prevent the would-be game-winner and force overtime. Then, with the game tied, he hit a running three as the clock expired to win. The image of Jalen Suggs standing on top of the scoring table with his team surrounding him will undoubtedly be replayed in NCAA tournament video packages for years to come.
As highlighted with other players in this draft, the immediate question is his fit with last year's Detroit Pistons' first-rounder, Killian Hayes. Both Hayes and Suggs are playmakers and at their most efficient when the ball goes through them.
Suggs showed plenty of flashes of brilliance off the ball, however, and his athleticism enables him to drive to the basket or redirect if need be. He could be used similarly to that of Frank Jackson, who will enter free agency in August.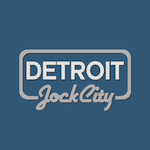 Want your voice heard? Join the Detroit Jock City team!
Write for us!
The Detroit Pistons were without a truly consistent off-ball guard. At the same time, Killian Hayes could use some backup at the point guard spot. Jalen Suggs could fill both of those roles.