Michigan State football: Quarterback battle still "50-50"
Michigan State football is heading into its second season with Mel Tucker at the helm, and his first decision of the season has yet to be made.
As training camp winds down in East Lansing, Michigan State football head coach Tucker is still without a starter at quarterback.
Last season, the Spartans went 2-5 with a signature victory over archrival Michigan 27-24. At quarterback was redshirt junior Rocky Lombardi, who had up and down games that allowed his backup, Payton Thorne, who is still on the roster, to play.
Who is the battle between in East Lansing?
Redshirt sophomore Payton Thorne and Temple transfer Anthony Russo are the two players battling it out.
Last season, Payton Thorne played in four games throwing for three touchdowns and three interceptions. He threw for 582 yards with a completion percentage of 56.6%. Thorne started one game last season against Penn State.
As for Anthony Russo, he played three seasons at Temple. In those seasons, he had 44 touchdowns and 32 interceptions. He threw for 6,287 yards with a completion percentage of 59.6%.
What Michigan State football's head coach Mel Tucker says regarding the quarterback battle.
Head coach of the Spartans, Mel Tucker, has said a whole lot on the quarterback battle. He has pretty much kept his thoughts close to his vest.
On Tuesday, he said, "we're gonna talk about it a little bit more this week – a lot more this week – and then we'll make a determination at some point before the game."
Last season, offensive coordinator and quarterbacks coach Jay Johnson said that he doesn't like having a quarterback battle drag out into the season. Also, at Big Ten media day this year, Tucker said his goal is to have the quarterback situation figured out.
The rumor mill has this battle at "50-50" as both quarterbacks are viewed at even at this point. Even if the coaching staff has a leader, they haven't shown it at practice or to the media.
A prediction on who will win the job for Michigan State football.
I feel that Michigan State will start Anthony Russo in week one. Russo has more experience than Thorne, which gives him a leg up at the end of the day.
Although in my prediction, Russo starts, Payton Thorne could easily get on the field this season. Both quarterbacks have a habit of turning the ball over; whichever one finds a way to take care of the ball better will ultimately be the Spartans quarterback.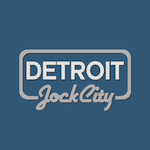 Want your voice heard? Join the Detroit Jock City team!
Write for us!
Michigan State will go on the road in week one to take on Northwestern on Friday, September 3 at 9 pm.