Jared Goff speaks on new era as QB for the Detroit Lions
The Detroit Lions are beginning a new era under center this season. Former number one overall pick Jared Goff will make his regular-season Lions debut when the 2021 season kicks off in September.
Goff recently sat down to talk with radio host legend Dan Patrick about his new home with the Detroit Lions.
The full interview can be seen below from The Dan Patrick Show YouTube page.
In the first portion of the interview, Patrick asked Goff some questions about first-year head coach Dan Campbell. The new Detroit QB showed nothing but praise for Campbell stating that he likes how honest coach Campbell is no matter the situation.
Goff credited his new head coach with helping rejuvenate him, and his passion for football as the pair hope to build something special for the Detroit Lions organization.
Goff, a California native his entire life, talked about the experiences he is living while being in the city of Detroit. The 26-year old new pride of Detroit never budged when asked about what the goal is with this 2021 Lions team. The simple answer is to just win. That is the answer for every team across the league, and Goff mentioned that the goal for this team is no different.
When asked about his breakup with the Los Angeles Rams, Goff took a page out of his new head coach's book and was honest about his situation. While it's okay to be angry, Goff realizes he is in a situation now that he is wanted, and he's only worried about those who support him and making the Lions a better organization while he is here.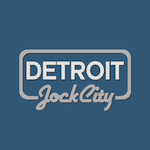 Want your voice heard? Join the Detroit Jock City team!
Write for us!
Goff seems focused and excited about his new venture in the NFC North. He knows this organization faces a rebuild, but the six-year veteran sounds easy to take on the challenge and bring a winner to the pride land.