Detroit Lions: Jonathan Williams in and Bo Scarbrough out?
Injuries continue to plague the Detroit Lions throughout training camp, especially at the running back position.
Entering the summer, the perfect scenario had been starting to align when it came to the Detroit Lions backfield. Third-year back Kerryon Johnson needed a strong training camp to fend off rookie runner D'Andre Swift leaving the likes of Bo Scarbrough, Ty Johnson, and rookie Jason Huntley jockeying for position down the depth chart. Johnson appears poised to start as Detroit's lead back–for now.
It's been a string of injuries and practice absentees that led the organization to bring in former Indianapolis Colts back up Jonathan Williams to compete for a final roster spot. The Lions also currently roster Wes Hills and fullback Nick Bawden. Hills is not expected to make the roster, and Bawden's place is also in jeopardy, as the Lions may prefer using a tight end as an H-back instead of carrying a traditional fullback on the active roster.
Day after day, Scarbrough and Swift continue to miss team practice. Both are losing valuable offseason repetitions and for Scarbrough, time to once again impress the coaching staff. The Detroit Lions selected Swift with the 35th overall pick in 2020, he's about as safe as it comes when it comes to securing a spot, but Scarbrough is limited to being a power back with little upside elsewhere.
Last season, the Detroit Lions allowed the former Alabama standout to be the teams' lead back after they'd be stricken with injuries. Scarbrough filled in nicely averaging 4.2 yards per carry in six games, that, without the threat of Matthew Stafford throwing the football. Scarbrough amassed 377 yards, 194 of which came after contact on 89 totes and scored one touchdown.
It seemed like Scarbrough, who'd be passed over by nearly everyone until the Dallas Cowboys selected him with the 236th overall pick in the seventh round of the 2018 NFL Draft. After being released and somewhat settling in with Detroit late in the year, his roster spot entering 2020 is once again undoubtedly in jeopardy.
Jonathan Williams filled in nicely for the Colts last season when starter Marlon Mack went down with an injury. Williams enjoyed a coming-out party last season after being a fifth-round draft pick in the 2016 draft by the Bills. After not getting much of an opportunity in Buffalo, and finding the same lack of usage in New Orleans, Williams found himself a role in 2019.
Williams compiled back-to-back 100-plus yard rushing efforts coming out of the bullpen for Mack last season. Williams averaged 4.8 yards per carry last season on 49 carries. He stands a stout 6-foot tall playing at about 220-pounds. Williams also caught all five of his targets totaling 59 yards receiving.
Both Scarbrough and Williams are competing for the organization's power-back or short-yardage position. With Scarbrough regularly absent at practice, it seems Williams may be emerging as the more favorable choice despite making a few errors in the backfield, mostly due to his unfamiliarity with the offensive scheme.
Ty Johnson proved enough last season averaging 4.3 yards per carry on 63 rushing attempts, also making 24 receptions as a rookie. Rookie back Huntley is a tremendous pass-catching, third-down back and isn't competing for a similar role.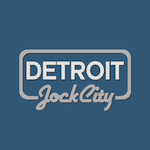 Want your voice heard? Join the Detroit Jock City team!
Write for us!
It seems to be coming down to Scarbrough and Williams, and right now, Williams appears to have the upper hand.