Detroit Lions News: Matthew Stafford should get out while he still can
Although the Detroit Lions are currently only two games out of a playoff spot in 2020, the firing of both Head Coach Matt Patricia and General Manager Bob Quinn last week has many analysts and fans already looking to 2021.
The two biggest topics? Who will be the next head coach, and will Matthew Stafford be in Honolulu Blue in 2021? The discussion has Twitter buzzing lately amongst Detroit Lions fans.
Some believe Detroit Lions quarterback Matthew Stafford will continue to remain loyal to the team that drafted him with the No. 1 overall pick in 2009. Others think that one way or another, Stafford will be playing for another organization. Frankly, a solid case can be made for both sides of the argument.
Many factors need to be considered when contemplating which side you land on, but for me, the most significant factor is who will be coaching the team next season.
"It's been tough for him. Again, I think the coach will make that decision."
Principal owner, Shelia Ford Hamp, appears to be leaving the decision on what to do with the 11th year pro up to the next coaching regime, taking a more "hands-off" role with the situation. When asked about Stafford in her post-firing news conference, she deflected most questions.
"Well, since I'm not the coach, I'm probably not the right person to ask that question to," Hamp said, via Dave Birkett of the Detroit Free Press. "We'll see what the new coach has to say."
One future head coaching candidate is currently the interim head coach, Darrell Bevell. Similar to Hamp Ford, Bevell didn't have much insight to offer up when considering whether or not he thought Stafford would be with the team beyond this season, but he did have some good things to say about the Lions signal-caller.
"I can tell you this: Matthew comes to work every day. He's given me everything he can possibly give. I think he's given everything he can possibly give to the team. We take shots, he's been beat up, he's played through it. He's tough as they come.

"He's definitely a positive influence on our team. The guys look up to him, the guys love him. I'm excited I have five more weeks to work with him in this situation because I know it'll bring out the best in him. If he's playing his best, I know we have a great shot to win."
If the Lions happen to win out the remaining five weeks somehow and possibly even land a spot in the post-season, Bevell could very well find himself in a permeant role leading the team. Unfortunately, with a remaining schedule of the Chicago Bears, Tennessee Titans, Minnesota Vikings, Green Bay Packers, and Tampa Bay Buccaneers, that seems extremely unlikely. This might not ruin Bevell's chances, but the Lions likely have their eyes on some other promising candidates.
Names such as Iowa State's Matt Campbell, Titans offensive coordinator Arthur Smith, Carolina Panthers offensive coordinator Joe Brady, former Ohio State head coach Urban Meyer, current Michigan Wolverines head coach Jim Harbaugh, San Francisco 49ers defensive coordinator Robert Saleh, and Kansas City Chiefs head coach Eric Bieniemy have all been considered amongst skeptics and fans alike for the gig. The last name I mentioned could be the key to the puzzle.
It's my opinion that if Bieniemy were to make the move from Kansas City to Detroit, Stafford might be back to finish out the remaining two years of his contract. Bieniemy, who had several interviews to be a head coach following last season, is perhaps the most sought after candidate out there this season, in a market that doesn't have two former Super Bowl coaches as it did in 2020.
The Chiefs offensive coordinator played running back at the University of Colorado, spent nine seasons in the NFL, and has been an assistant in the college and pro ranks for almost two decades. He was promoted from running backs coach to OC of the Chiefs two seasons ago, the same time that quarterback Patrick Mahomes was given the reins to the Kansas City offense — and together, the two never looked back.
With other great talents surrounding Mahomes on the field, such as Sammy Watkins, Tavis Kelce, and Tyreek Hill, he and Bieniemy helped head coach Andy Reid took the team to a Super Bowl victory last season.
Bieniemy's offensive coaching style, football pedigree, and overall respect he has for his players could make Matthew want to remain in the Motor City, and Bieniemy may wish to keep the 32-year-old Stafford to lead his offense and perhaps help guide a freshly drafted quarterback for a season or two a la Alex Smith and Mahomes. This could be precisely what it takes to bring the ever-loyal Stafford back to Detroit, and if it is, it's looking unlikely to happen.
While Bieniemy is my favorite replacement of Patricia, some of the aforementioned candidates probably have a better chance of taking the helm of the Lions.
According to Sportsline, the odds are not forever in Bieniemy's favor. The best odds currently sit with Robert Saleh, who is listed at (+500) odds, followed by Jim Harbaugh (+600), then Bieniemy (+700). While that may not seem all that bad, there are several other very appealing organizations who will likely be looking for Bieniemy's services next year.
As of now, the Houston Texans are lead by interim head coach Romeo Crennel, formerly of the New England Patriots, Cleveland Browns, New York Giants, and New York Jets, after firing former head coach Bill O'Brien.
However, Crennel is 73-years-old and is unlikely to be considered for the job making Houston a top contender to land Bieniemy considering a roster that has names like DeShaun Watson and Will Fuller V (as of now). Watson has many similar traits to Mahomes, is only 25-years-old and just signed a four-year contract to remain with the Texans.
The two coaches that seem the most likely to land the Lions head coaching job are Saleh and Harbaugh, given their ties to Detroit. Saleh grew up in Dearborn, MI and played at Northern Michigan while also beginning his coaching career at Michigan State. Some have speculated that Saleh could also bring current 49ers vice president of personnel Adam Peters to take over general manager duties in Detroit. Saleh has built a dynamic 49ers defense and is a year removed from coaching in the Super Bowl.
Harbaugh, on the other hand, has earned himself a position on the hot seat with U-M after a very lackluster run with the Wolverines but did have great success in the NFL, also with San Francisco. Harbaugh took the 49ers to the Super Bowl and racked up a 44-19 record during his four years in the bay area, but is rumored to be unlikely to coach the team he once played for at the colligate level. Considering this, signs seem to point back to Saleh.
Ultimately, no matter who the coach is, and as much as it pains me to admit this as a die-hard Stafford supporter, it's probably a good idea to make a change for both sides. In the words of former Lions quarterback and good friend of Stafford, "It didn't work out."
Stafford has earned my praise and especially my respect ever since, showing his grit in his rookie season when he leads the Detroit Lions to a 38-37 win over the Browns while re-entering the game with a separated shoulder.
Eleven years later and Stafford, who is 11 years older, is still showing that same toughness by playing despite being hobbled by an injured hand and still putting together a respectable year thus far despite battling injuries. Stafford has completed 63.2% of his passes for 2,876 yards with 18 touchdowns and eight interceptions in 11 starts.
Additionally, while many former players lashed out on Twitter at Patricia following his firing, Stafford showed respect and offered a respectable answer when asked about his former head coach and general manager.
"Never expect it to happen," Stafford said. "We're just going about our business trying to win games. Hate the way it happened for those guys. They put so much time and effort into trying to get this team to where it needs to be.
It's that respect for Stafford that makes me say he shouldn't return to Detroit next year. I believe a change of scenery would be suitable for Stafford, who has been beaten down during his 12 seasons with the Lions. I want to see him succeed. I want to see him finish off his legacy with a Super Bowl ring — and that just isn't going to happen in Detroit.
The Detroit Lions are likely headed for a re-build.
Moving Stafford would have been easier last year when the quarterback candidates coming out of college included Tua Tagovailoa and Justin Herbert. This year, the Lions are projected to have the ninth pick in the 2021 NFL Draft (as of this writing), and there are two other quarterback-needy teams projected to pick ahead of them in the Jacksonville Jaguars and Jets, who are likely to take the two top quarterbacks in Trevor Lawrence and Justin Fields. To make things worse, the Washington Redskins and the Panthers will also likely be looking at quarterbacks.
Stafford will be 33 before the start of next season, and the Detroit Lions would take roughly a $19.45 million cap hit if they traded him. That, combined with the quarterback market and demand, makes me believe that he will be back next year. I love Stafford and would love to see him succeed in Detroit. Hell, maybe Bieiemy lands with the Detroit Lions.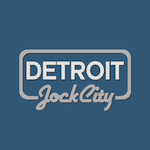 Want your voice heard? Join the Detroit Jock City team!
Write for us!
Here's to hoping he's able to lead the Motor City to the promised land and all the punishment was worth it, but a big part of me wishes the organization grants him a trade if he wants to finish his career elsewhere. No matter where he plays, I'll be rooting for him.