Detroit Lions: Penei Sewell needs to be atop the draft board
If the Detroit Lions find themselves on the clock with Justin Fields and Penei Sewell available, who should they select? It's a difficult question with no real right or wrong answer, but I will provide you with an opinion.
We may be sitting here come April 29th and swapping out Fields with Trey Lance or Sewell with Rashawn Slater. This may depend on what the Atlanta Falcons choose to do with the fourth overall pick, but we will use Fields and Sewell for this exercise.
As more and more NFL Mock Drafts emerge, all signs point to Trevor Lawrence and Zach Wilson going 1-2 to the Jaguars and Jets. The 49ers remain a wildcard sitting with the third overall pick, but many suggest head coach Kyle Shanahan loves Mac Jones; if true, that only benefits the Detroit Lions.
Mac Jones is someone that likely isn't even on the Detroit Lions' radar, so if he's selected in the top six, it allows someone that really shouldn't fall to seven lands in Detroit's lap.
It's Penei Sewell that should be atop the Detroit Lions draft board.
This is just my opinion; there is never a legitimate 'can't miss' prospect, but Sewell is as close to that in this draft as possible. If Sewell is available, that's the pick; it's a simple as that. I'm intrigued with Fields, and I do feel that he's a tremendous prospect, but with the Detroit Lions recently restructuring 26-year old Jared Goff's deal, it's time to make an above-average offensive line into an elite unit.
The Detroit Lions already have a solid offensive line anchored by Frank Ragnow inside, with Taylor Decker protecting the blindside. The Lions drafted a pair of guards with consecutive draft picks last season, and while the jury is still out on Logan Stenberg, Jonah Jackson appears to be a reliable starter.
If you're wondering where I'd put Sewell, let me say this. Decker will make the same money playing right-tackle, he's already paid, so I'd plug in my 20-year old at left tackle right from the get-go.
Hal Vaitai isn't good enough to be a starting NFL tackle, so the Lions are forced to play him at guard even though he makes tackle money. Vaitai carries a dead-cap figure of $14.6 million for 2021, so the Lions will likely plug him in the starting lineup opposite Jackson for one more season before cutting him next year and absorbing the $4.2 million dead-cap number.
The Lions can draft Fields or Lance and sit either behind Goff for a season, or the organization can try and protect Goff by bolstering their OL with Sewell.
By drafting Sewell, the Lions can focus on keeping a clean pocket for Goff, plus continue to operate a balanced offense that focuses on running the football with D'Andre Swift and Jamaal Williams. Like any NFL starting-caliber quarterback, Goff will be able to pick defenses apart with a clean pocket. I expect offensive coordinator Anthony Lynn will be focusing on running the ball and working in plenty of play-action opportunities that target the sensational young tight end, T.J. Hockenson.
If the Lions felt the need to select a receiver, there will be plenty of high-end pass-catchers available at seven. Still, the organization will have an opportunity to select a starter in rounds two, three, and four with how deep this receiving class is.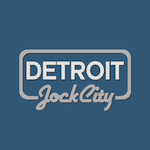 Want your voice heard? Join the Detroit Jock City team!
Write for us!
Picking a receiver is a luxury; the Lions are not in a position to make a luxury choice; they need a cornerstone. It's time to stop making sexy selections and start making smart ones. That's either a quarterback or building this franchise from the trenches out, and who better than a 20-year old stud tackle?